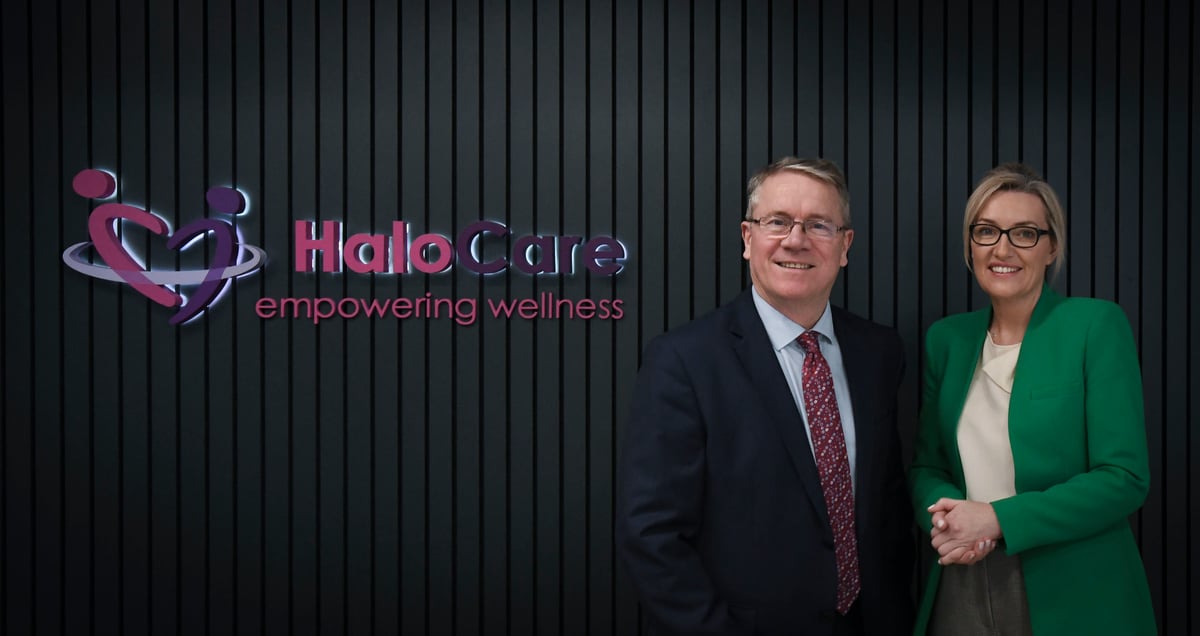 Co-Founder David Walsh becomes Chairman of the fast growing start-up
Carlow headquartered, HaloCare Group, the pioneering Irish start-up developing elder care smart technology to facilitate safer independent living for seniors has announced changes to its senior management team. Current CEO and Co-Founder David Walsh is to become the company's first Chairman while Sarah-Jane O'Dwyer has been appointed CEO at the fast-growing company.
David Walsh, Chairman, HaloCare Group said; "In the 12 months since our foundation, we have crystalised our offering and have no doubt that HaloCare's eldercare assistive technologies will transform the delivery of safe, patient-centred care to senior people. As we look to expand our business in Ireland and internationally we are delighted to appoint Sarah-Jane O'Dwyer as CEO of our company. Sarah Jane brings over 20 years' experience in leading and advising international private and public health care organisations across Europe and the Middle East to The HaloCare Group. Her business acumen, medical background and international experience will be invaluable as she leads HaloCare in its next phase of growth. As Chairman of HaloCare I look forward to working closely with Sarah Jane and warmly welcome her to the HaloCare team".
A native of Dublin, Sarah Jane O'Dwyer previous roles included COO with St James's Hospital Group in Malta where she was responsible for a multi-million Euro budget and Transformation Programme Manager for Hamad Medical Corp, Qatar's not for profit healthcare provider which manages nine hospitals and operates the national ambulance service and a home healthcare service. She has collaborated with Government and regulatory bodies across multiple countries in Europe and the Middle East.
Commenting on her appointment Sarah Jane O'Dwyer said; "HaloCare's mission is to empower consumers to take control of their healthcare delivery and make smarter choices regarding their healthcare management. This enables providers to quickly adopt remote patient monitoring and hospital in the home models of care, ultimately wrapping clinical services around the needs of the patient. Utilising HaloCare's state of the art technology and multidisciplinary clinical teams we can provide a world class service to the Irish healthcare market.
"This disruptive approach is a real leverage for change that will re-shape the healthcare industry and I am very excited to be leading a company that is reimagining the future of healthcare in Ireland. David Walsh is one of Ireland's foremost entrepreneurs and I am delighted to have the opportunity to work with David and benefit from his vast knowledge and experience. With the evolution of assisted digital technologies we can dramatically impact positive patient outcomes and I will be bringing international best practice in elder care to our HaloCare customers keeping a 'patient care first' philosophy at the centre of everything we do".
HaloCare was founded in 2021 by David Walsh, Niall Kelly and Dr Johnny Walker. HaloCare fosters independence and empowers people to live a better quality of life, with the care they need when and where they need it. The company's clinical advisory board includes Dr Rhona Mahony, Professor Dermot Power and Dr Edwina Dunne. Today the company employs 25 people at its Carlow Headquarters.