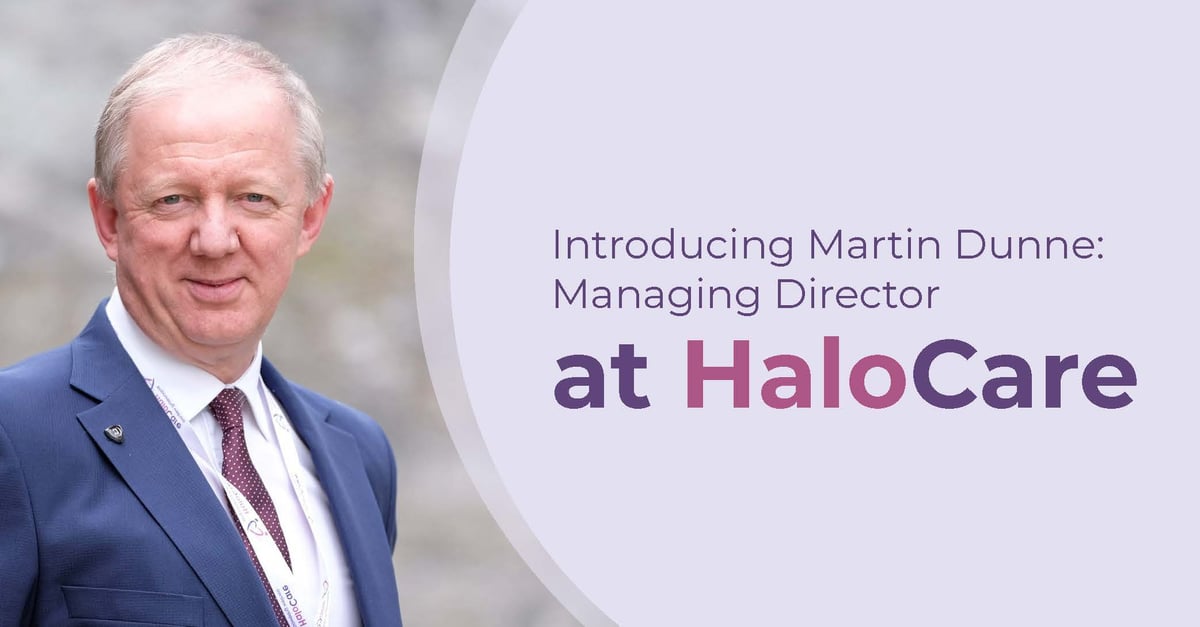 HaloCare
,
blog
| 07 Sep, 2023
Martin began his career with the National Ambulance Service (NAS) and its predecessor, the Eastern Region Health Authority, back in 1987. Over the span of 35 years, Martin dedicated his career to the National Ambulance Service which resulted in a promotion to Director in 2013 a position he held until his retirement in 2021. Martin then moved to a career as the Deputy CEO of Lifeline Ambulance Service, before recently joining HaloCare as Managing Director.
Martin is still a registered licensed paramedic and is extremely passionate about the delivery of care. We sat down with Martin as he shared his story and what he believes the future of healthcare will look like.
Tell us a bit about your background in the health sector?
My career in the health sector began 35 years ago, initially working in the ambulance service, in what is now known as the control centre. During my time there, I worked up through every level of management before achieving the role of Director of the National Ambulance Service in 2013, and I remained in that position for eight and a half years.
During my time in the service, I was lucky to play a pivotal role in driving change. When I first joined, the Ambulance service was seen purely as 'pick and carry', back in the day before there was even such a thing as a defibrillator!
"The National Ambulance Service is now a professional, clinically lead service with a focus on critical care delivery instead of transport. What was originally a six-week long course to work within the Ambulance Service is now a four-year BSc qualification"
Nowadays, Emergency Medical Technicians carry over 250 pieces of equipment on every frontline emergency service ambulance, equipped with everything clinicians need to be able to carry out the highest level of care.
The role of the Ambulance service was further expanded by what is called a Paramedic, which is an increased skillset with a higher level of equipment and medication delivery. Since then, we've subsequently introduced 'Advanced Paramedics' which requires additional training and a wider skillset.
Since my initial years as an ambulance driver, the pathways have greatly changed, and we've moved into a position where we have highly skilled clinicians out in vehicles dealing with patients. I am very happy and proud to have been a part of that change.
My role now is Managing Director within the HaloCare group. HaloCare keeps care in the community by utilising Assistive Living Technology and 24/7 response to support independent living.
What do you love about working within the health sector?
My passion is to provide quality care to those who need it, whether that's in the ambulance service or here in HaloCare. There's a common theme, and that is to understand who our clients are. You must remember that it's the clients that are driving everything we do. HaloCare develop an understanding of who their clients are and what they need, to be able to offer a holistic virtual care solution that is tailored to the individual's needs.
Before I finished in the National Ambulance Service, my main role was to look at 'alternative pathways'- because of the demand and pressure that was being placed on the HSE. We had to look at new ways of treating people, and being able to treat them at home was absolutely the way forward.
"HaloCare fits in the niche of allowing people to stay in their home environment in a very safe way, for as long as they can"
In my 35 years in the healthcare sector, I've never met anyone who wanted to go to hospital, particularly in an ambulance. HaloCare allows people to live independently, even if they need additional support, they can stay in the comfort of their homes. Until you are looking at the whole picture of the individual, their physical and emotional needs, and their vital signs, you don't have all the information you need from a decision-making point of view.
HaloCare takes a holistic approach towards care, building up a relationship with the client and ensuring the client is receiving the highest standard of care across all these pillars.
Why is innovation vital for the healthcare industry?
From a care point of view, both in the equipment used and the delivery of care, we've come so far. Technology within the healthcare industry is rapidly advancing, in particular, we can see solutions such as Remote Patient Monitoring and Assistive Living Technology becoming more common.
HaloCare is leading the way for change in the healthtech industry, adopting the latest technology and utilising it for the delivery of the HaloCare solution. The technology we use is developing all the time, and it adds value to the client, because they can stay where they want to stay, which is at home. Assistive Living Technology and the advancements in Vital Sign Monitoring means that the client can live independently while still receiving the highest quality care.