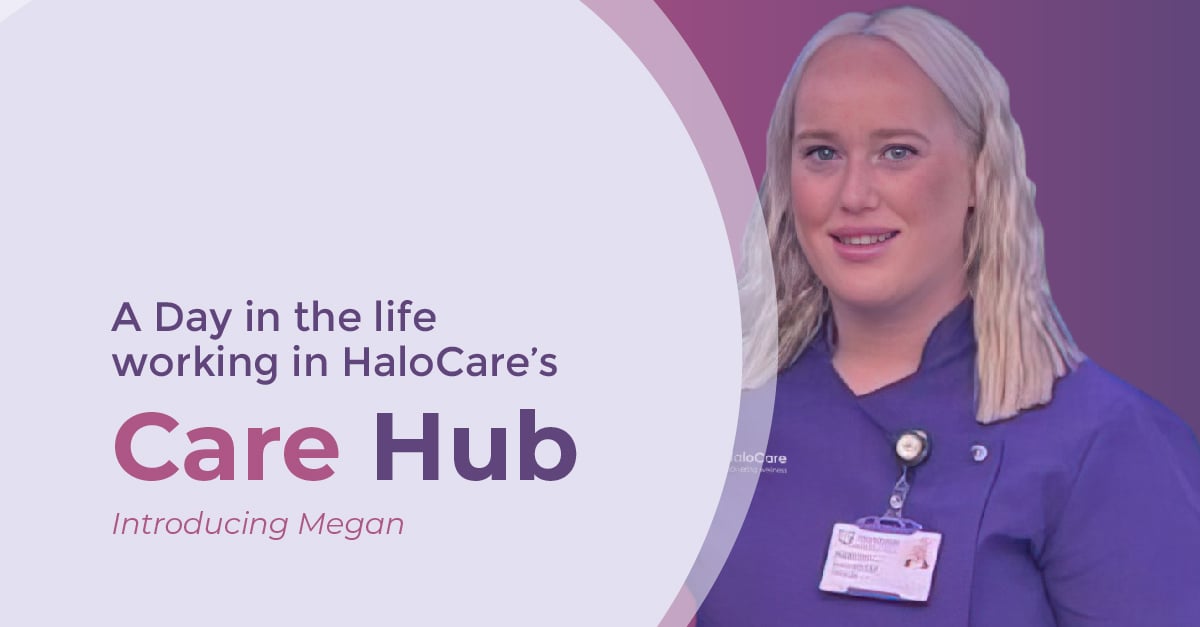 HaloCare's Care Hub is supported by a 24/7 expert team with experience in working across a variety of areas and specialities. The team behind the Care Hub are an integral part of HaloCare and are the familiar voice that our clients and their loved ones speak to each day.
We caught up with Megan from the CareHub as she shared how her experience volunteering with the Irish Wheelchair Association and watching friends in the healthcare sector inspired her to pursue a career in the health technology sector.
What pathway led you towards your career working within the HaloCare Care Hub?
I was drawn to work for HaloCare as it was an appealing opportunity and something I've always been passionate in regard to improving the lives of people in need of support.
HaloCare focuses on using technology to enhance the quality of care and support that our clients and their families receive, which is an extremely fulfilling mission for those who are interested in making an impact in the healthcare industry.
I volunteered in the Irish Wheelchair Association from a young age, caring for and assisting members of different ages with a range of different needs, which was such a rewarding experience knowing that I had the potential to make such a difference in someone's life.
"My granny ran the branch [Irish Wheelchair Association] in Carlow and I took a shine to everyone in it from when I was really small. I drove them all mad asking when I was allowed to volunteer!

I started volunteering at twelve in the kid's summer camps and as I got older, I helped out more.

Something so small, just even talking and painting their nails, it made people so happy, and it's the same working in HaloCare. Ringing our clients to see how they are makes them really happy and they feel like they have a friend rather than somebody who is just doing their job."
In HaloCare, we improve the quality of our customers' lives every day, which in my eyes is the most rewarding feeling.
Can you describe what a typical day working in the Care Hub might look like?
It is our responsibility to respond to alerts coming in, which range from fall detections or wandering risks, to welfare alarms or doors opening at unusual hours.
"I would say being respectful is also a big responsibility, being professional and not overstepping the mark but still being relatable.

There is a fine line, and you have to get the balance right"
We also get to know the daily routines of all of our customers in order to build a picture of their daily lives. That way, we can determine if a lack of activity or increased activity is out of character or potentially a cause for concern. We communicate with the circle of care if we notice anything unusual.
What skill/quality do you find that you use most working in a caring capacity?
The most special moment for me in my time working in the Care Hub will always be a conversation I had with one of our very first clients. He receives a comfort call every afternoon and I enjoy them just as much as he does. He told me one day that he thought of us all as family to him and he sits beside the phone every afternoon waiting for the call as it brightens his day. That really meant so much to me and all of us here in the Care Hub.
"You build such a special bond with each client and it is very gratifying to know you are making such a huge impact on someone's life regardless of how small a task it may seem.

Knowing you made someone happy makes your job even more enjoyable"

I'm never surprised when someone from the client's circle of care explains the relief that HaloCare gives them, because I get it! I know I would feel the same way about HaloCare if they were looking after my granny or a member of my family.
What do you find most interesting about health technology?
When I was in college lots of my friends were doing degrees within the health sector like social care, nursing, etc. and I always had a great interest in what they were doing. When I saw the job advertised for HaloCare, I was immediately interested.
"I loved the idea of being able to combine helping people but using a digital way to do it"
It's a fascinating approach to healthcare. It enables people to manage their health and really improve the quality and consistency of the care all age ranges receive, by allowing people to get the support they need at home.
Health technology is beginning to enable people to live more independently at home, while also freeing up hospital space for critical patients. It's great to be at the forefront of this change and development within HaloCare.