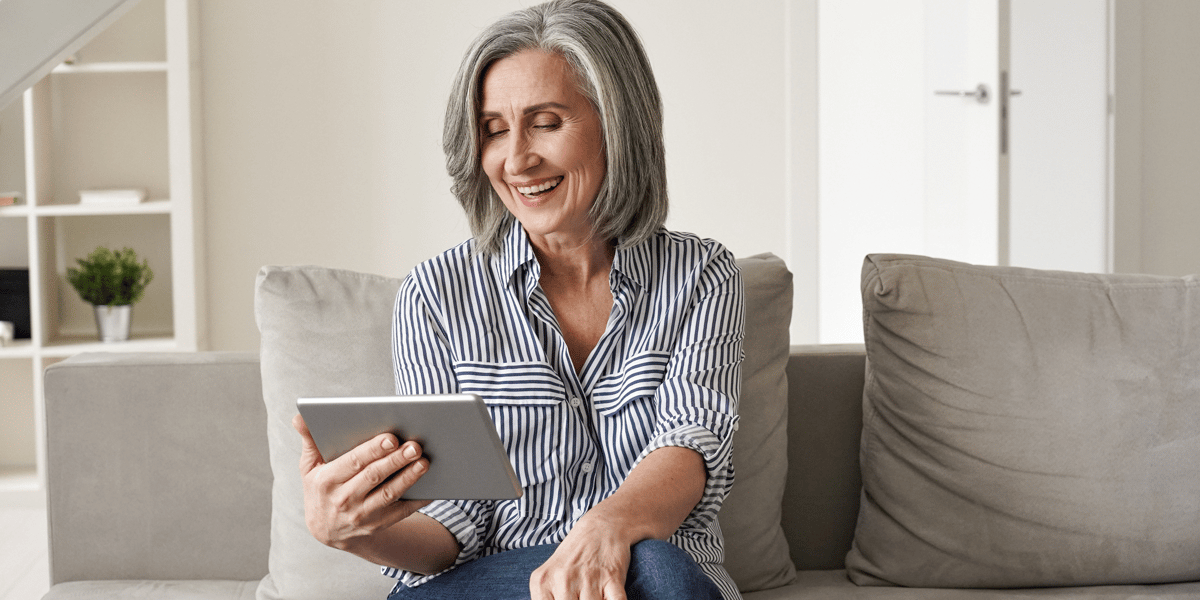 Many older people would prefer to continue to live independently at home where possible. Thanks to advances in technology, it's a safe and realistic option for most people enjoying their golden years. Assistive devices, mobile apps, and alert systems can work together to keep loved ones safe and independent in their home, even as their health needs evolve.
Outlined below are some apps, and services that can help older people safely remain in the familiarity of their home for longer and connect with friends and family, even from afar.
Technology offers a wide range of benefits to older adults. Below are just a few reasons why embracing new tech can benefit seniors as they age in place
Monitors health and wellness

Informs you about the latest news and trends

Provides entertainment

Provides peace of mind

Connects them with friends, family, and healthcare providers
Older People Continue to Adopt New Technology
There is a stigma with older people and technology, but seniors have proven time and time again that they can adjust to the ever-evolving tech landscape as well as any other age group. In 2019, more than half of older adults bought a new tech product, whether it be a smartphone, laptop, or smart home device. Once seniors are connected to the internet, getting online becomes part of their daily routine. In fact, roughly 75 percent of older adults with an internet connection report that they use it daily.
The coronavirus pandemic is a perfect example of how quickly seniors learned the ins and outs of new technologies to stay connected with loved ones by using FaceTime, hosting meetings on Zoom, and hopping on telemedicine calls with physicians.
How HaloCare are Helping People Age in Place Through Technology
HaloCare is a technology enabled solution for people who wish to remain in their own homes and need a little extra support. By using technology that works seamlessly in the background, our clients can continue living their normal lives with the knowledge that HaloCare is always there to support them.
Our clients have complete peace of mind in the hours of the day when homecare or family carers cannot be there. Should an emergency occur, real-time information is sent to our Care Hub where trained specialists can react, respond and reassure. According to the Centre of Disease Control and Prevention, about 36 million falls are reported among older adults each year. 20% of these falls result in the older person lying on the floor for an hour or longer. Our highly trained Care Specialists can verify with the client if they need help and alert their Circle of Care immediately in similar situations. This means no cameras, no home modifications and no worrying about scheduling because HaloCare is always there in the case of an incident.
With HaloCare, it's not just about keeping people safe at home, we are also dedicated to improving our clients' overall health and quality of life through hydration and nutrition reminders, exercise support or medication reminders. HaloCare fosters independence and empowers people to live a better quality of life, with the care they need when and where they need it.
Safety
The HaloCare Solution remotely supports both the personal safety of the individual and the environmental safety of their home. From movement sensing to wander alarms, and environmental alerts such as flood,
temperature and gas, HaloCare are there to react, respond and reassure.
Social & Wellness
The HaloPad Age Friendly Tablet allows for video calls, photo swapping and chats with loved ones in a simple and easily accessible manner. It also contains personalised content based on interests and hobbies such as local newspapers or sports results. The companion app for the primary caregivers provides alerts and updates on their loved ones as agreed and required.
Committed to proactively supporting our customers to live healthier, longer and more connected lives in their own homes, HaloCare also provides a suite of wellness solutions from baseline assessments to hydration, nutrition and physical exercise reminders.
Clinical
HaloCare also supports our customers with smart devices that collate vital health data such as Blood Sugar, Body Temperature, Blood Pressure, Heart Rate, Respiration and Weight.
If you or your loved one needs a little extra support while living independently, HaloCare is there 24 hours a day, 365 days of the year.