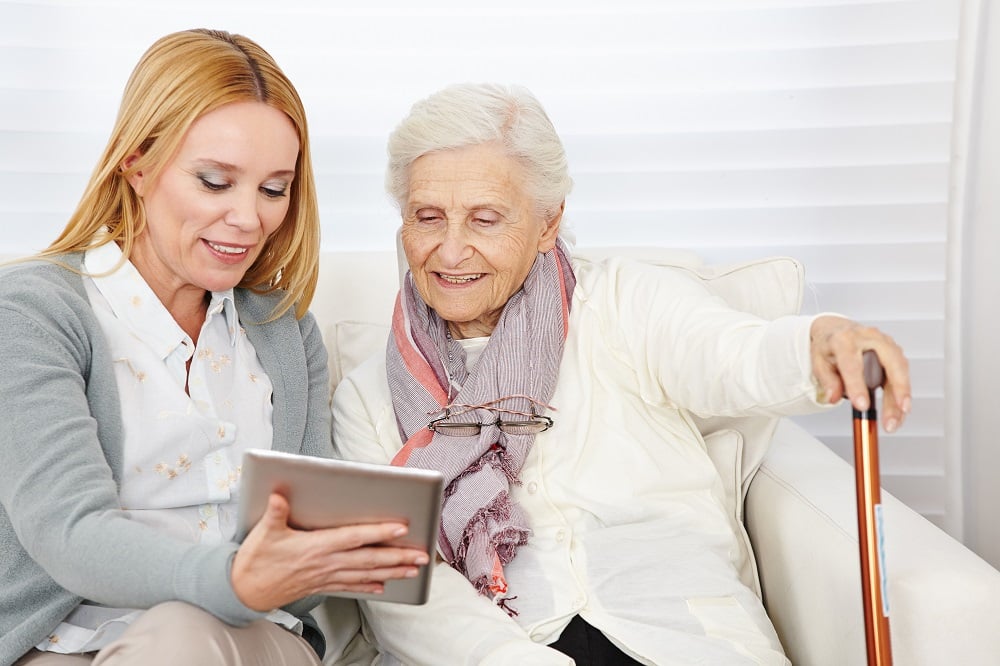 IndependentLiving
,
Assistive living
| 05 Dec, 2022
Assistive living technology is a broad term used to describe any product or service that's primary function is to maintain or improve an individual's independence. Assistive living technology allows people to live independently at home, empowering the individual while reducing the need for formal health and care services
Assistive living technology comes in a variety of forms, some well-known examples of assistive technology include;
Cognitive aids to help people with memory, attention or other challenges in their thinking skills
Safety aids such as ring doorbells, motion detected alarms, personal alarms/pendants etc.
Health devices that can measure blood pressure, sugar levels, etc.
Who can benefit from assistive living technology?
Assistive living technologies are often used to support and assist individuals with disabilities or restricted mobility. Other individuals who may benefit from having assisted living technologies in place include;
People with learning disabilities
People with chronic illnesses
"With an ageing global population and a rise in noncommunicable diseases, more than 2 billion people will need at least 1 assistive product by 2030, with many older people needing 2 or more" - WHO
Assistive living technology not only benefits the individual, but also can help support their circle of care. Family caregivers can have peace of mind knowing that a response is at hand, 24/7, should there be an alert.
How does assistive living technology contribute to health equity?
There are many factors outside of control that can affect an individual's health including the cost-of-living crisis, income and wealth gaps and inadequate housing. These factors can have a negative impact on health equity. Health equity ensures that everyone has the chance to be as healthy as possible, and assistive living technology is one way we can challenge these factors.
'Health equity is achieved when everyone can attain their full potential for health and well-being' - WHO
Assistive living technologies not only support individuals with any physical support they may need, but it can also help tackle social isolation which many older people or people living with disabilities may experience. According to Age UK, more than 1 million older people say they go over a month without speaking to a friend, neighbour or family member. Digital technologies can now remove barriers for communication and can make it easier for older people, or those living with a disability, to stay connected to family and loved ones.
How assistive living technology impacts the health sector?
Assistive Living Technologies not only positively impacts the patient, but also has wider socio-economic impacts and benefits for the health sector.
Aids clinical prioritisation
Assistive living technology means that patients can return home and, with the best-in-class medical devices, vitals can still be monitored by health professionals remotely. This aids clinical prioritisation and ensures the vulnerable can get the medical attention they need in a timely manner.
Reduces prolonged hospital stays
The shortage of hospital beds has been an ongoing challenge within clinical settings. Assistive Living Technologies means that patients that are healthy enough to return home can do so, and with assistive living technologies in place, they can continue to receive quality care from the comfort of their own homes.
Savings in the health economy
Assistive living technology means quality care for the patient with no need for prolonged hospital stays and fewer home visits from health professionals, as vitals can be taken virtually and with the correct devices in place, hospital readmissions can be reduced or prevented. Each one of these benefits will not only see savings in the health economy but will also assist with better health outcomes for the patient.
Our HaloCare solution
HaloCare is a 24/7, 365-day technology enabled care solution for people who wish to remain independent in their own homes but need a little extra support day-to-day. We adopt a holistic approach to patient-centred care and have three core pillars at the foundation of everything we do: Safety, social, wellness and clinical.
Safety: Keeping our clients safe at home is paramount. Our technologies are best-in-class and developed to promote independence which gives our clients and their circle of care the peace of mind that, should anything happen in the home (for example an unusual pattern in client behaviour), we will be alerted and can intervene when required.
Social and wellness: Social isolation can become a problem, particularly for older people or those living with a disability. We offer a bespoke service where our trained care specialists will call our clients, at their request. This service helps keep our clients connected and works in conjunction with family visits and homecare support. Our HaloCare solution supports clients so they can carry out their daily activities of living while delivering better physical and mental health outcomes through a blended approach of virtual homecare solutions.
Clinical: We have adopted virtual remote patient monitoring to provide health professionals and clinicians with timely access to client's vitals for better health outcomes and wellbeing.
HaloCare is built to the highest International Standards and Best Practice in Governance and is led by a highly trained team so clients and their circle of care can put their trust in HaloCare.