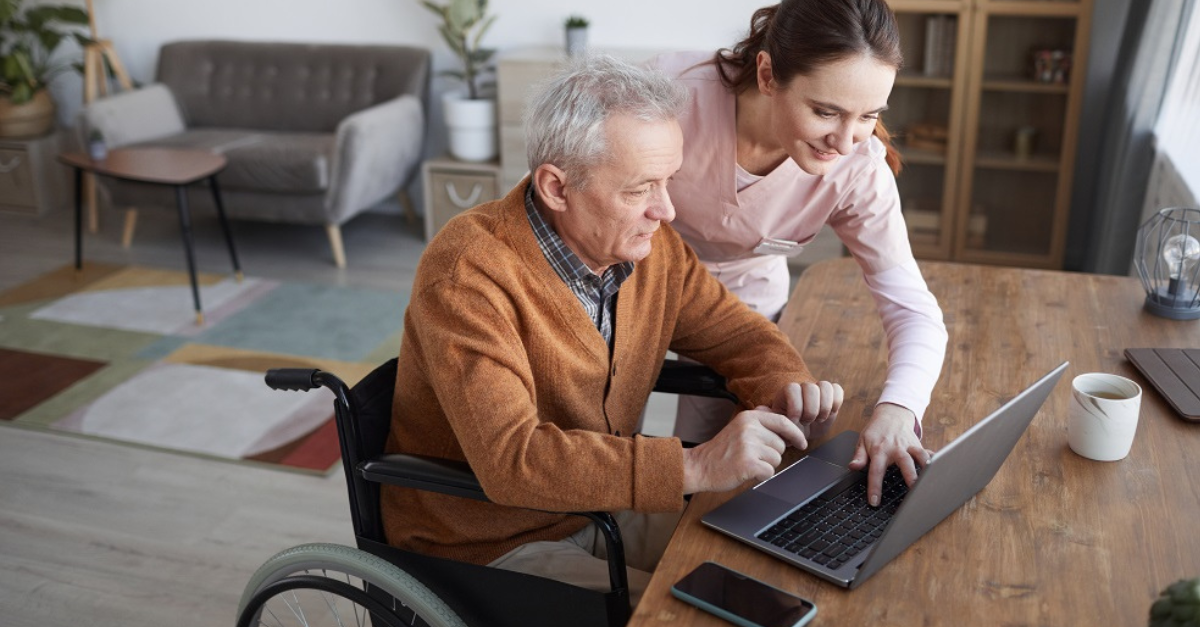 Assisted Living
| 12 May, 2023
Almost one billion children and adults with disabilities are in need of one or more assistive products. In The Global Report on Assistive Technology, it's reported that by 2050, 3.5 billion people will need at least one assistive technology.
Assistive Living Technologies are defined as any device or system that supports a person's ability to carry out their activities of daily living. Assistive Living Technology can include;
Mobility assistance i.e., stair lifts
Cognitive aids to help people with memory, attention or other challenges in their thinking skills
Assistive Living Technologies that are developed to keep the individual safe in their environment i.e., smart doorbells, motion detection alarms, personal alarms/pendants etc.
Often, persons with disabilities may require some form of assistive living technology to help make living independently in their home possible. Assistive Living Technologies can help those living with a disability have greater control and choice over the care they receive.
Disability solutions for independent living
The journey towards independent living looks different for every person with a disability. Assistive Technology can be used to remove any barriers for independent living for disabled people.
Some ways Assistive Technology can support independent living for persons with disabilities include;
Promotes independence at home
For many young adults and older people with disabilities, they may want – or need – independent living solutions. There are a wide range of options that are available, a common option would be supported living facilities where the individual moves into new accommodation that can offer independent living, with additional support available on hand whenever required.
The supporting living route may be a preferred option for many, but for those individuals who wish to remain living at home, assistive living technologies could be a solution.
Independence begins with the individual and with Assistive Living Technology, solutions are developed with the end-user in mind. HaloCare allows for solutions to be put together to create a bespoke package that best fits the needs of the client.
Non-intrusive care solution
Technology doesn't have to be intrusive. HaloCare specialise in solutions that empower the user. HaloCare Smart Devices blend seamlessly into the client's daily routine, using contactless technology to promote independence while keeping the client safe at home.
HaloCare offers digitally inclusive technology, developed to be user-friendly, combined with a highly trained team to deliver a home healthcare solution that improves the quality of life for clients with a disability.
Cost-effective solution for long-term care
Assistive Living Technologies offers a long-term service solution that maximises the client's independence and provides the best long-term solution for quality care at home.
Reducing the need for clinical visits, reducing hospital discharge times and allowing for the remote monitoring of patient care, all result in savings for the health economy and reduce pressure on health care services.
Find out more about the benefits of assistive technologies for persons with disabilities.
About HaloCare
HaloCare is a 24/7, 365-day technology enabled care solution for people who wish to remain independent in their own homes but need a little extra support day-to-day. HaloCare adopts a holistic approach to patient-centred care and have three core pillars at the foundation of everything they do: Safety, Social & Wellness, and Clinical.
Safety: Keeping clients safe at home is paramount. HaloCare technologies are best-in-class and developed to promote independence which gives HaloCare clients and their circle of care the peace of mind that, should anything happen in the home (for example an unusual pattern in client behaviour), the HaloCare team will be alerted and can intervene when required.
Social and Wellness: Social isolation can become a problem, particularly for older people or those living with a disability. HaloCare offer a bespoke service where trained care specialists will call clients, at their request. This service helps to keep clients connected and works in conjunction with family visits and homecare support. The HaloCare solution supports clients, so they can carry out their activities of daily living while delivering better physical and mental health outcomes through a blended approach of virtual homecare solutions.
Clinical: HaloCare have adopted Remote Patient Monitoring to provide health professionals and clinicians with timely access to client's vitals for better health outcomes and wellbeing.
HaloCare is built to the highest International Standards and Best Practice in Governance and is led by a highly trained team so clients and their circle of care can put their trust in HaloCare.