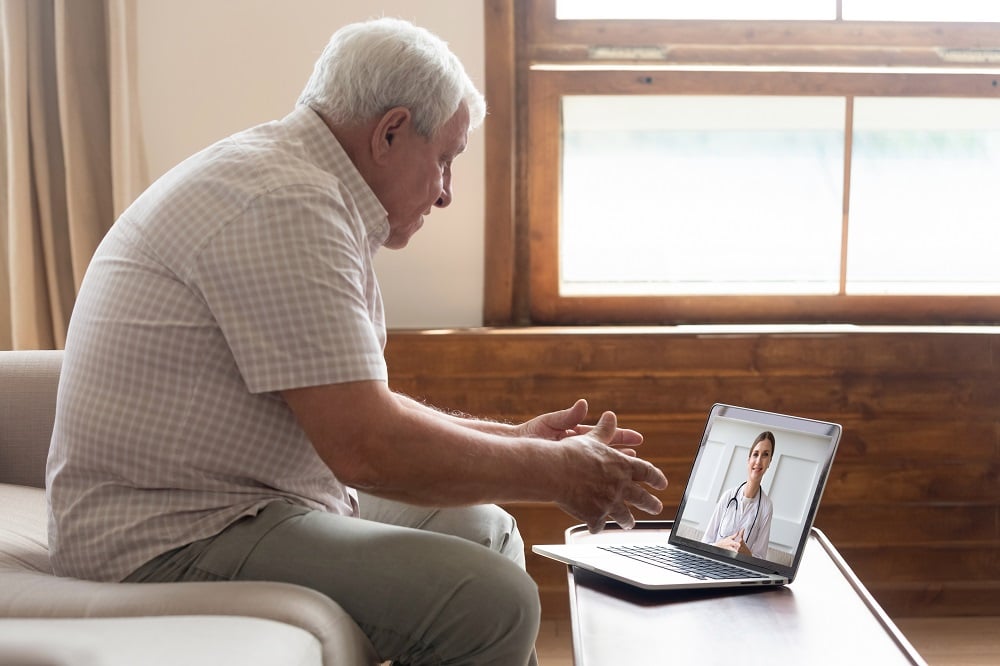 Older People
,
IndependentLiving
| 09 Jan, 2023
The Global population is aging quicker than ever before. By 2030, 1 in 6 people in the world will be aged 60 years or over. As people live longer, we must seek alternative solutions to support individuals on their aging journey, and one way we can maintain the independence of an aging population is by providing a high standard of virtual healthcare technology that can be adapted to the individuals' home.
Healthcare professionals are looking to new virtual technologies to enhance the quality of senior care delivered. Some examples of healthcare technology include;
Assistive Living Technology;

any product or software that is designed to support and assist individuals with disabilities, restricted mobility or other impairments to live independently

Remote Patient Monitoring; medical devices that allow for patient vitals, such as blood pressure, to be tracked and monitored by clinicians remotely.
Telecare; allowing patients to virtually connect with their healthcare professional through tablets, smartphones etc.
How can virtual healthcare technology supports senior care
Increased independence
Supporting someone on their aging journey means providing opportunity for them to be as independent as possible. Living at home might not be a viable option for every individual, but with the correct healthcare technology, individuals can feel empowered to live independently.
Keeping individuals safe is a priority and with smart devices in place, everyone within the circle of care can have peace of mind that their loved one is safe.
Privacy & dignity of care
While in a hospital setting, health professionals will do their utmost to provide their patients with the privacy that they are entitled to, but with bed shortages and increasing pressure on staff, this is not always possible.
Healthcare technology means that the patient can receive their care, in the comfort of their own home, ensuring their road to recovery is as dignified as possible.
Easier visitation from the circle of care
Overall health considers not just physical but also social and emotional wellbeing. Social isolation can be a problem for older people, and those who are staying long-term in hospital. Since the outbreak of COVID-19, hospital visitations have been significantly reduced meaning patients staying long-term in hospital can become isolated.
For individuals that are living at home, visitations from their circle of care will be easier as they will be able to come and go at times that are convenient for them.
Supported early discharge
Having a best-in-class healthcare technology package in place makes the transition from hospital to home easier for all those involved. Patients that are physically well enough can be discharged and with telecare solutions, patients can continue to receive the highest standard of quality care from the comfort of their homes.
"54.9% of Bed days used in an acute hospital setting were used by patients aged 65+" - Health in Ireland Key Trends 2022; Department of Health.
Virtual assistive living technologies for better health outcomes
Virtual assistive living technologies allows clinicians to collect vitals including:
Blood pressure

Body temperature

Heart rate

Weight
without the need for the client to remain in an acute hospital setting. Clinicians can then use this data to make informed decisions about the patients' medical care, resulting in better health outcomes for the patient.
Savings in the health economy
Healthcare technology not only has major benefits for the patient, but also has socio-economic benefits also. Virtual healthcare technology benefits such as supported early discharge, reduction in prolonged hospital stays and aiding clinical prioritisation helps to relieve pressure on health professionals and also has a positive financial impact.
Virtual Healthcare technology can be significantly lower than hospital care, and often bespoke solutions are offered that can be tailored to the individual. This means that with the correct package in place, patients can recover in the comfort of their homes with continued access to clinical support where required.
Virtual Healthcare provided by HaloCare
HaloCare is a 24/7, 365-day technology enabled care solution for people who wish to remain independent in their own homes but need a little extra support day-to-day. HaloCare adopts a holistic approach to patient-centred care and have three core pillars at the foundation of everything they do: Safety, social & wellness, and clinical.
Safety: Keeping clients safe at home is paramount. HaloCare technologies are best-in-class and developed to promote independence which gives clients and their circle of care the peace of mind that, should anything happen in the home (for example an unusual pattern in client behaviour), HaloCare will be alerted and can intervene when required.
Social and wellness: Social isolation can become a problem, particularly for older people or those living with a disability. HaloCare offer a bespoke service where trained care specialists will call clients, at their request. This service helps keep clients connected and works in conjunction with family visits and homecare support. HaloCare supports clients so they can carry out their activities of daily living while delivering better physical and mental health outcomes through a blended approach of virtual homecare solutions.
Clinical: HaloCare have adopted remote patient monitoring to provide health professionals and clinicians with timely access to client's vitals for better health outcomes and wellbeing.
HaloCare is built to the highest International Standards and Best Practice in Governance and is led by a highly trained team so clients and their circle of care can put their trust in HaloCare.